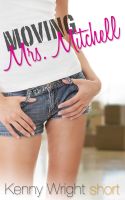 Still my favourite of
Kenny's books,
available on
Smashwords.
Kenny Wright has just written the blogpost 
MILFs in erotica
 (with a bit on the side about cougars).  
Em and Lo's New York article Of MILFS and Men anxsts about whether this is a new objectification of women. But as Kenny notes, the MILF is not a bad woman, she's an intriguing combo of Madonna and whore:  a responsible caring lady who knows how to cuddle you when you have a grazed knee and what snacks are the best treats for a sleepover, combined with someone who is obviously not a virgin and might know a thing or two you'd like her to teach you.  
(Interesting that in spite of critical 
acclaim 
and 
an A list of stars,