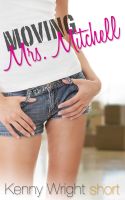 Still my favourite of
Kenny's books,
available on
Smashwords.
Kenny Wright has just written the blogpost
MILFs in erotica
(with a bit on the side about cougars).
Em and Lo's New York article Of MILFS and Men anxsts about whether this is a new objectification of women. But as Kenny notes, the MILF is not a bad woman, she's an intriguing combo of Madonna and whore: a responsible caring lady who knows how to cuddle you when you have a grazed knee and what snacks are the best treats for a sleepover, combined with someone who is obviously not a virgin and might know a thing or two you'd like her to teach you.
(Interesting that in spite of critical
acclaim
and
an A list of stars,
As a feminist, I'm happy to say, Goodbye Anna Karenina, Hullo Happy-go-lucky MILF.
Are You a MILF?
Personally I refuse to edit stories about MILFs. I mean, I work as a college tutor. I could get away with arguing that my writing and blogs are feminist activism. But I can't see an employment tribunal being sympathetic if I get sacked for editing stories about sex with sexy moms written by college students, even if they are not my own college students. Anyway, I like to read about MILFs for pleasure not grammar.
I also feel most MILF-like
driving my car.
OK, maybe I might be a bit of a MILF. Although I still say I was only pouting my lips round that cupcake to save my Christian Dior Rouge Serum Plum lipstick. I can't remember what I said to the postgrad student I suddenly noticed hovering nearby giggling in ecstasy but it was a party. Of course I flirted. He was mad to turn up at my seminar paper two weeks later with his tongue hanging out. I mean, pursuing the partner of a senior colleague before you've even graduated? Career suicide! I would certainly not be sloping off with anyone that dumb. (Even if he could afford my mortgage, the piglet violin lessons, my single malt whisky and artisan chocolate habits and the occasional diamond earrings.)
MILFs are more commonly known in Britain as Yummy Mummies. They go for lattes and biscottis with their BGFs (Best Girl Friends), taut breasts well supported by Rigby and Peller. (I prefer Bravissimo.) They have been magnificently celebrated in the hilarious book The Secret LIfe of a Slummy Mummy. (I just want to say that at least that time I too found a lump in the leg of my jeans which I realised was the day before's knickers, I managed to limp off to the toilets and not have to kick it out in public.)
I'm not a Yummy Mummy. I often take my piglet to school with my hair unbrushed. I wear pink wellington boots with ribbons in them because I bought some to match my piglet's in a mistaken moment of kitsch, forgetting that she would grow out of hers while I would be stuck wearing pink wellies with ribbons in them. I cycle instead of driving a 4X4. My Barbour jacket is scuffed.
But yes, I am a MILF. To be honest, I'm boggled by this. I never thought I was that attractive until the postgrad tried to crawl into my cleavage, the builder at my daughter's school started smiling like that at me and after an early morning false fire alarm at a conference, a fireman winked at me as I stumbled sleepily in my mommy pyjamas back into the building. (Bloody Hell, there were so many feminists at the conference I couldn't even boast about it.)
Why Do Men Like MILFs?
Why would a young fit man look at someone my age, who is obviously preoccupied with piglet maintenance?
OK, when I wear the Bravissimo bras and even in the mommy pyjamas, I look pretty good but that's not it.
During my early developmental years I completely failed to realise I was drop-dead gorgeous. I've always smiled at people. People like smiley people.
As the poet
Robert Herrick
puts it, A sweet disorder in the dress / Kindles in clothes a wantonness. I've noticed that when I'm smartly dressed, men think I might be above them but if I run out of the house in a tatty Barbour and pink wellies, they view me as more approachable.
I am really posh, with a cut-crystal Oxbridge accent. (There are people who go for that alone, I've had amazing offers on the telephone.)
And most of all, I am a mom. I look like I'm attached to some bloke I won't be shedding in a hurry and I've got a kid. High chance of having a casual flirt or fling, no strings attached and no sudden biological urges to pin a man down and get him to provide me with child maintenance.
That said, most men are only flirting with the MILFs they meet. What they really want is to take their excitement home to the real MILF in their life: the one who cuddles them if their boss is mean and knows what treats they like best when the kids have gone elsewhere for a sleepover. As feminists I think we should embrace MILFiness as a big step on from women only being seen as powerful and sexy outside the home in the porn parlour.
Do I Like Being a MILF?
As I read this back I realise I did the classic woman's thing. I got my enjoyment out of being the object of other people's enjoyment and didn't write about whether I enjoy being a MILF. Objectification is the core pleasure of MILFdom. When fit guys find you sexy and try to cuddle up to you, it reassures you about what you are. You can do the steps in Stepford with a bit more zing. It's fab that all that inexpert fumbling I had to go through in my younger days now makes me not a whore but a smart foxy lady. It makes me feel powerful and as if I move smoothly, like a big purring cat. Like a cougar. Young men are so pretty and sweet. (Are you scared yet? LOL! I'm a very gentle cougar. Like one of my characters says, "there is always something precious about a young man who has lain in your tender arms for his first orgasmic embrace.")
I am 50 this year (and loving it!).
I think it's hilarious to be a MILF at this age.
I'm
a terrible flirt, particularly online where I can tickle people's fancy with my wit instead of nudging a bloke as he stares drooling at my feet in Fuck Me shoes and saying,
I said something funny then
. I didn't mind the postgrad student. I sometimes secretly wish he had Friended me on Facebook instead of showing up to my seminar paper and I could buy him a coffee and say,
My honey, when you meet the woman you mean to marry - smile just like that at her
.
The All Blacks have long realised
that Sevens is the nursery of
But I don't always like being MILFy. If that builder eyes me up in front of my young daughter one more time I will punch him. I would have liked it if the postgrad had really been interested in social policy aspects of Sex and Relationships Education. I would have preferred that Professor to offer to publish one of my research papers instead of snuggling up to me in a golden moment of inebriated infatuation. I would like to go and buy a round of drinks at the bar without having to say, Yes I am here with someone. That is my fella and we are trying to enjoy a rare night out on our own. I would like a man to listen to my analysis of the Welsh rugby team's performance and his eyes not go glazed as he tries not to lose his concentration between my tits.
There was only one man who always preferred my brain to my body in spite of the body's manifold temptations. I guess that's why I'm still with him. That's probably the most irresistible thing of all - the safely unattainable MILF. How Oedipal do you want to be? It's a classic!